THESE LUSCIOUS RECIPES FROM MARTHA STEWART'S NEW COOKBOOK, GRILLING, ARE BOUND TO LIGHT YOUR FIRE.
---
Grilled Lobster with Mixed Herb Sauce
SERVES 6
3 lobsters (each 1¼ to 1½ pounds)
1 tablespoon plus 1 teaspoon extra-virgin olive oil, plus more for grill
Mixed Herb Sauce (recipe follows)
4 tablespoons unsalted butter, melted
Flaky sea salt, such as Maldon
Mixed fresh herbs, such as mint, flat-leaf parsley and oregano, coarsely chopped, for serving (optional)
Lemon wedges, for serving
1. Bring a large pot of water to a boil. Plunge lobsters headfirst into boiling water and cook just until color changes to bright red, about 1 minute. Remove from pot.
2. When cool enough to handle, cut in half lengthwise from head to tail; remove guts.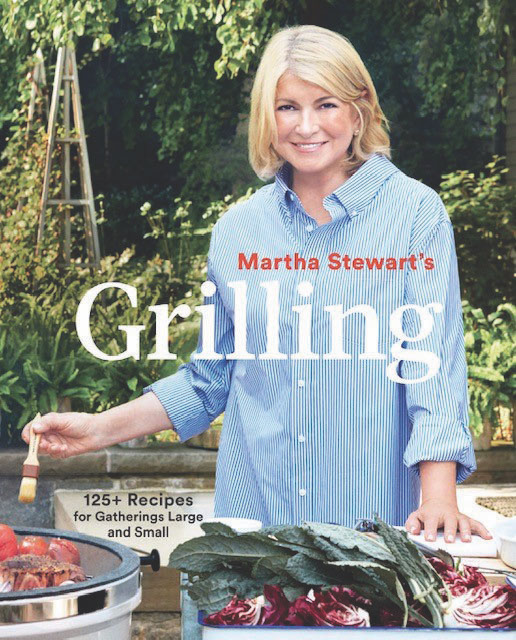 3. Heat grill to medium. Lightly oil grates. Drizzle lobsters with oil, then 2 tablespoons mixed herb sauce.
4. Grill, meat-side up, until cooked through, 6 to 8 minutes, then turn once to lightly mark meat.
5. Drizzle with butter, sprinkle with salt and herbs (if desired), and serve with lemon wedges and remaining herb sauce.
Mixed Herb Sauce
MAKES 1½ CUPS
1½ cups fresh flat-leaf parsley leaves
1½ cups fresh mint leaves
¼ cup fresh oregano leaves
¼ cup fresh lemon basil,Thai basil, or lemon balm (optional)
2 garlic cloves, minced
1 teaspoon finely chopped Thai bird chile or other hot chile
2 teaspoons pink peppercorns, crushed
4 anchovy fillets, preferably packed in olive oil, chopped
1 cup extra-virgin olive oil
¼ cup apple cider vinegar
Coarse salt
1. Pulse herbs, garlic, chile, peppercorns and anchovies in a food processor until finely chopped. Add oil; pulse to a paste. Add vinegar and 1 teaspoon salt. Pulse to combine.
---
Iced Tea with a Citrus Twist: Jasmine Tea and Orange Juice
SERVES 2
2 teaspoons loose-leaf or 2 bags jasmine tea
2 cups boiling water
2 cups fresh orange juice (6 to 8 oranges)
Ice cubes, for serving
Orange slices, for serving
1. Steep tea in boiling water 4 minutes; strain or remove bags.
2. Let cool completely, then combine orange juice and tea in a pitcher. Refrigerate until ready to serve, up to 2 days. Serve over ice, garnished with orange slices.
---
Watermelon, Orange and Feta Salad
SERVES 4
¼ small red onion, very thinly sliced
¼ small (6-pound) seedless watermelon, rind removed, flesh cut into ¼-inch slices
1 large orange, peel and pith removed, flesh cut into segments
2 ounces feta cheese, sliced or crumbled
¼ cup fresh flat-leaf parsley leaves
4 teaspoons extra-virgin olive oil
Coarse salt and freshly ground pepper
1. Place onion in a small bowl of ice water. Let stand 10 minutes, then drain and pat dry.
2. Arrange watermelon, orange segments, onion, feta, and parsley on a serving platter. Drizzle with oil, and season with salt and pepper.
---
Reprinted from Martha Stewart's Grilling: 125+ Recipes for Gatherings Large and Small. Copyright © 2019 by Martha Stewart Living Omnimedia, Inc. Photographs copyright © 2018 by Elizabeth Cecil and others. Published by Clarkson Potter, an imprint of Penguin Random House, LLC.